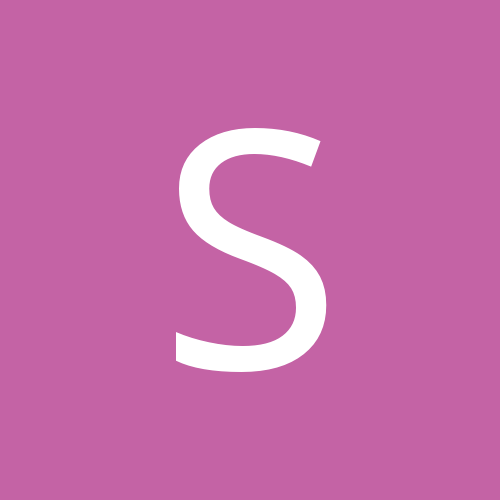 Content Count

17

Joined

Last visited
Community Reputation
0
Neutral
About shnelson
Rank

Member


Birthday

01/01/1
Recent Profile Visitors
The recent visitors block is disabled and is not being shown to other users.
I'm looking to get some custom black flags made up, but don't have a heat press and am not sure how the pros actually do it. Looking to get 2-3 colors put on light flag like/banner material, would like glossy look to be minimal. Any recommendations on where I should look?

It all depends on where you set your origin, in the case of this video I set the origin about 10-12" from the right side. Not sure what best practice is here, but i've gotten in the habit of just throwing the vinyl on the rollers and setting the origin wherever it lines up, rather than trying to align it to the far right. Awesome! I've seen him before, but can't place it - it's going to be a big DUH! moment for me when you mention it.. I got the ambition to start framing up my basement, now the cutter is tucked away in the corner and i'm having withdrawals. Thank goodness the stand has wheels so I can put it into use in a pinch. Would love to have a detached workshop, but our temps here it would definitely have to be heated! Thanks again for the kind words. Shawn

Thanks everyone! The video doesn't really show the final graphic that well, I should have a photo of it applied tomorrow that I'll post up to show it a little better (there are reed grass cutouts on the orange layer). Robert, I'm thinking between $5-7 for these decals which I believe comes in on the CHEAP side of the curve. Reason being is that these are promotional items, and I picked up my own equipment so I could offer the decals at a much cheaper price. Realistically, i'd expect to pay $10-12 or more based on the pricing from where I was getting them from. Thought here is that I don't make much on the margin up front, but if I can offer my target market something appealing & cheap it'll encourage growth to the site... which will hopefully pay off in the long run! It is tough to find a happy medium with blade height. I had it to the point where would score the paper enough to leave an impression on the back side, then backed it off a smudge from there. running 12in/s @ 60g and it seems to be working well. Every once in a while it'll take a deeper bite and cut the paper, so i have some tuning left to do! I don't think i'd even attempt these without clear app tape

Can you post the original raster bitmap? The file you provided has a broken link to it

Came up with another layered graphic design, this was my first run at this one. Couple things I learned: - When weeding, don't limit myself to pulling from left to right. First two layers would have been quick and clean if I went right to left - Find a new work space other than the kitchen table, sooner or later the wife is going to find all of my tiny weed fragments! Also need to do some adjustments to the graphic, mostly enhancing some of the details so I can scale it up easier.

I had the exact same problem, see this post: http://forum.uscutter.com/index.php/topic,31840.0.html My solution was a new cutter since it was purchased not long ago. Are you out of the warranty period? If your machine is on a stand, make sure that the stand is properly grounded as the vinyl rolls will build up a lot of static.

Thanks Nitewalker! I've added the skull eps to the original post, I had just pulled a random image from google and turned it into a vector. Resized it to 2" horizontal in SBE and it fits perfect. Currently operating out of our unfinished basement, I have a kennel area built for the pup down there and that's about it, hoping to get it framed up and at least finish a workspace over the winter. Would also be nice to get some heat vents going down there too!

Thanks John, I've added an annotation clarifying that removing the plastic is not required.

I have no real logical explanation for it, other than making sure the blade was seated all the way in... the first plotter had a faulty blade holder that wouldn't allow you to fit the blade through the plastic. Thought it was by design and didn't try it any different when the new one showed up. Learn something new every day

It may not be that instructional, but I shot a quick video covering full assembly of the replacement mh871 I received today. Literally from ripping it out of its box to making its first cut and applying the decal. I was going to do more explanation with the titles, but a wealth of that information is already available here. I just wanted to give a visual representation of what someone can expect, and how easy it is to make your first cut. Took me about 40 minutes start to finish, would have taken me much longer if my pal wasn't there to help me out *it appears something got messed up with the audio, will fix this when I get a chance to recompile the video and make some other revisions! comments & critique appreciated! 12/19 Edit - Added skull eps by request. skull.eps skull.eps

Thanks for all the responses everyone! Means a lot to me since this is my first run at it! xpfguy - you raise a valid concern which I share. Decided to go with the barrel decals after seeing how popular they've become, but I have my doubts with their longevity. Especially on uncured barrels, like mine, that require a constant coat of rem oil so they don't rust. Can't imagine that would have a positive effect on the decal, especially with the constant fluctuation in heat. I'd imagine coated barrels might be a better substrate, but any duck hunter's gun goes through a lot of abuse! For anyone interested, the font I used is titled 'Defused'. I have to warn you that it will take a lot of prep work to be able to cut, the font in its original form has a lot of grunge/debris and micro tears that I had to remove/amplify by rasterizing it then converting back to vector when it was done. No big deal for me since I don't need every letter of the alphabet, but can get very tedious if you are making different sets of wording for different people! stetson, I definitely appreciate your comments but I don't think I can provide you with the original graphics I designed since they're proprietary for the purpose, the main pintail is quickly becoming the staple of most of our media. I don't want to leave you high and dry like that though, and this goes for everyone, if you've got a similar design in mind or a photo i can work with i'd gladly throw them into layered vectors for you (the black and white really makes it pop against any color substrate in my opinion).

Figured I'd throw an update out for everyone - My ticket wasn't getting any movement after a few days, so I called the number provided a few threads above. Over the phone support has been AWESOME. The gentleman I spoke to said he knew what the problem was but didn't want to hassle me with swapping out parts and RMA'd the plotter for me since it was so new. Waiting on the new one to show up, but I'm leaning towards motherboard as the culprit on this one. I'm pretty new to the uscutter scene but so far I've got to say I'm pretty impressed. Yeah, I got a bum plotter, but that sort of thing happens with electronics - their support more than makes up for a fault in the technology!

Thank JoeDirt - I made the duck vectors from scratch using photoshop. The designs had to be completely unique and free of trademarks for their intended use.

I got tired of paying through the teeth to have the graphics I designed cut up by another shop, so I pulled the trigger last week and got the mh871 off ebay. Started with some simple text banners and quickly progressed to three color layering: After weeding the complex/distressed text, I can see why they wanted to charge an arm and a leg for these - but I love how they look. I have received a lot of negative feedback based on concept designs of the text, most saying they don't think it is readable from a distance. Here's what an older design looks like on my truck: In person, I can read it from a few car lengths back.. but I have 20/20 vision . My biggest downfall is where it is mounted on the window, most cars are too short to catch the text because of my tailgate height I can't wait to get cranking on some more designs, just too bad my cutter crapped out yesterday (lasted me 4 days of use though!)...