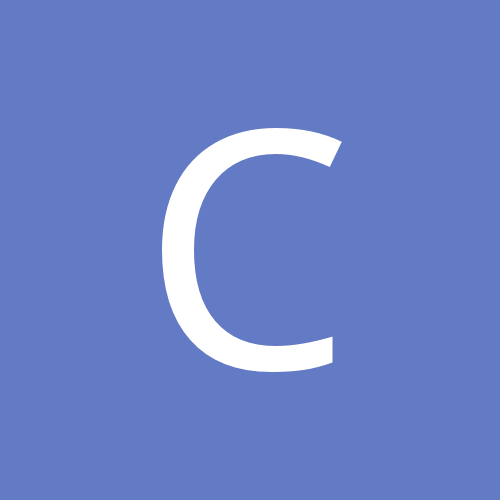 Content Count

16

Joined

Last visited
Community Reputation
4
Neutral
It's a good question. I'd like to see your math because it sounds like you are getting things a lot cheaper than I ever have and you aren't buying from USCutter! I did price it on the higher side expecting to come off the price a bit and I didn't put in the listing, but I tell everyone who asks about it that I am available when they need me for help and support with everything. As you know, knowledge is worth much more than $1,000 in saved time if you can call someone up to help you right away. Shirts - $2.00/each * 232 = $464 - (I even put it as the price for all white Gildan 8000 series shirts Source: JiffyShirts.com Heat Press - $250 Source: USCutter Cutter = $360 Source: USCutter (Used the SC Series with the stand since they no longer sell the PCut) Vinyl = $3.10/ft * 118 feet = $365 464 + 250 + 360 + 365 = $1,439 USCutter Sells a TShirt Shop Business Package that doesn't have close to the amount of vinyl/shirts and it is $1,025 http://www.uscutter.com/index/page/product/product_id/2744/category_id/2/product_name/USCutter+Decal+and+TShirt+Shop+Business+Package

1

Hey all! I am selling a few things and wanted to let everyone know if case they are interested. I live in Indianapolis, IN by the way. ZCorp 310 Z310 3D Printer Prototyperhttp://indianapolis.craigslist.org/sys/4675899470.html HP DesignJet 500 42" Wide Format Printer Plotter with Stand & Full Inkhttp://indianapolis.craigslist.org/sys/4675907609.html T Shirt Graphics Business-230 Shirts, Heat Press, Vinyl Cutter, Vinylhttp://indianapolis.craigslist.org/bfs/4672561560.html

I have two that I don't use currently if you are interested, but they are both 3' x 2'. 1) X Treme Cutting Mat - Has some cut lines on it - Average Condition 2) Greenie - I've never even used this one at all - Brand New

Here is a link where I have it listed on Craigslist http://indianapolis.craigslist.org/bfs/4672561560.html

How big of cutting mats are you looking for?

Hello Everyone! I have decided to exit the shirts side of the business. I had done shirts for 5+ years and it is the part that I liked the least (not really sure why!!) so I have finally decided to sell it to pay off a student loan (recently went through Dave Ramsey's Financial Peace University at my church). I am located in Indianapolis, IN. I would rather not split up any of this but I would be willing to separate the cutter. If you are interested, please send me a message at c(underscore)dugger@sbcglobal.net This is a snapshot of what I have for sale. Please contact me for specifics: 232 Gildan 50/50 shirts - White, Ash, Black, Red, Navy Over 115 Feet of 15" Siser Easy Weed Heat Press Material - Black, Green, Navy, Pink, Purple, Red, Yellow Creation PCut 24" Cutter/Plotter with Stand Sunie 15" x 15" Heat Press

1

Thank you for the feedback everyone! What is everyone's opinions on the All-In-One Computers? When I go set up at other locations for a weekend to a full week, I was thinking they would be pretty neat to have something bigger, especially the ones that have battery powered capabilities as well as touch screen that could give customers even more of a sense of getting their money's worth Newbies, if you are on-site making/selling decals, one good practice is to slow down your cutter a little and let people watch you weed/tape the vinyl. This makes it more of an experience for everyone. I heard it said this way one time: The customer feels they get more value out of a product if they see the work that went into making it because they are more vested. Think of a locksmith; you lock your keys in your car and call a locksmith up. She comes up and opens the door in 10 seconds and charges you $75. You may at first feel like this is too much money because it took hardly anytime at all and you secretly wish she would have struggled more or at least it would have taken longer so you "would have gotten your money's worth" even though you are in a better situation if that would have happened. This, of course, is faulty logic; however we all do it without realizing it. The same goes for the customers. They feel more invested if they see all the work that goes into it and you will hear a lot of things like, "I wouldn't have the patience for that" and these other members can add scores of other sayings we always hear. Sorry... back to the question: All-In-One. Does anyone have one? Is it convenient for your, especially with the larger screens?

Hey all! I'm thinking of buying a new computer that I can take with me to a flea market I'm going to be setting up that. I wanted to get everybody's feedback on what they currently have or they believe I should get. I have a Graphtech and I use CS6, SCALP, trusty ol SignBlazer, and Vector Magic. What does everybody think of Windows 8? Thoughts on Windows 8.1? Thoughts on an i3 or an i5 processor compared to an AMD processor? How much memory and how much hard disk space does everyone have? - In my desktop I run Windows 7 64 bit Home edition with 4GB RAM and 500 GB HD. Thank you everyone for your feedback. Caleb

I was re-thinking about some of this today and there is always a level of interpretation of what is OK with certain people and what is not and I guess we can never please everyone all the time. Just like the business people who won't give someone a job based upon whether they wore a blue or black suit with a white shirt underneath. We can always find a reason why something won't work; as entrepreneurs we should focus on how we can make things work and support each other in the process. Some things I've ran across in case anyone reads this later that is getting into the industry: I have a hosting account with several domains for various reasons like my business, my brothers, a non-profit I am on the board for, etc. There are multiple emails under multiple domains set up. Like a lot of people have said, GMail is quite popular and you can link up to 5 (I believe it's 5) other emails you own using either POP3 or IMAP. After fumbling through that at the beginning you can pick which email address you want to send from and it all goes through GMail and it looks like it comes from your website. Just a thought.

I would argue that the reason they have to "advertise" on a bulletin board is because they don't know how to be professional. I throw away business cards that have a free email account like gmail or yahoo at my "real" job in transportation. Especially when you are going more towards high-end clients who will pay the extra, I believe it is very important to have the look of being committed to your business. have all the emails forwarded to your personal, but at least have the professional email address if you want to be taken seriously.

Wild Goose, You do have good points on that front, and I agree with that to some extent. The big point I feel is the fact of fronting all of the money when you could be using that same money to invest in something else. That is where there is a lot of opportunity cost incurred. If you only need one specific part of the program you can always buy an older version of that program and negate the entire huge expenditure discussed and it would be a fraction of the amount. Could I have been missing some data? Absolutely! Is there other facets being misconstrued to establish a irrelevent agenda in order to seem superior? Maybe...

cdugger replied to security802's topic in Fonts

Is this it? http://www.fonts101.com/fonts/view/Uncategorized/30393/Simpson_Condensed_Heavy

cdugger replied to Vinyl Guy's topic in Fonts

The Diesels looks to be a little like a "Jedi" font. Maybe you could manipulate it to look like it? http://www.fontspace.com/boba-fonts/star-jedi

I did a recent order pretty similar to the original request at $3.00/decal and they said yes without even thinking twice. Don't devalue your service and factor in your time like you mentioned. Yes, the vinyl is cheap, time is not. They can't get that kind of advertising for less than $450.00, so make sure to drive that home with them. Plus these are rated for 6 years! Does a radio ad last that long? Nope!

This may be my finance background coming out on this; your logic of the $50/month instead of the one time cost is way off. If you have the $3,000 to spend on the software right now and choose to do the $50/month version instead you can take the additional $2,950 and invest it (either in the business or a no load, market mutual fund - which historically would net you returns of about 12%/year, even more the last few years). If you invested in the mutual fund you would go from $3,000 (invested and earning 1% interest/month = $2,950*1.01=$2,979.50 - $50/month charge= $2,929.50) to $2,929.50 as opposed to $2,900. If you continue to do the math on it (I did) you are left with $1,312.50 after 5 years instead of $0. On the other hand you can spend $3,000 all at once, not invest the other money and be left with an extremely out of date software after 5 years (but, hey, you own it!) where your competitors will have extremely increased productivity allowing them to do the work in X% of the time compared to your archaic technology. (At this point most people blame their bad business decisions on big companies like Wal-Mart and say that's why they can't compete instead of owning up to the fact they weren't actively working on a way to create value to their customers). By no means is this an attack on you, I simply want people to think about this and give their feedback because it's a completely different way to look at it. I, too, have been doing this as a side income for about 7 years and am an anomoly in the fact that I am a Finance person in a creative person's domain here. I envy everyone's creative talents, I just bring a cost savings/$ efficient way that most people don't consider that makes up for my lack of creativity. If I could find a good, creative person to partner with, we'd do very well!