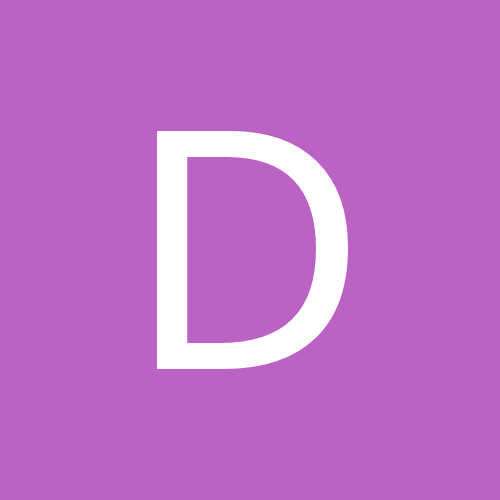 Content Count

48

Joined

Last visited
Community Reputation
2
Neutral
About derrick1217
Rank

Advanced Member


Birthday

12/17/1956
Profile Information
Gender
Interests

Loving creating useful items - Silk screen printer - very unprofitable to make small amount of products until now!
derrick1217 replied to ff-extreme's topic in Laminators

I am retired but believe total resting caused early death - So I picked up printing - I am self taught and have went threw a very costly learning curve on equipment - I have purchased three laminators in the last few years, the first was a Banner EZ27 ( Max film 1.5 each side or 3.0 mil film) double sided heat activated, I used on 24 X 24 inch posters in the church worked wonderful on pictures, but when I attempted to use on outside signs - the pictures faded in about 90 days due to what I am told the sun rays on the film was not uv protected! Next I purchased a Ledco economatic 44 inch pressure sensitive cold lamanator - not only does it lamanate the film, but it mask off my vinyl and is able to lay my vinyl onto the subtrate great unit - I have used up to 10 mil on the film that makes my signs stiff as a board, no fading. Next found a Large XT 500 clam shaped laminator used mostly in photo shops - to mount & lamanate photo's - it uses perfirated laminate that is UV protected, the form board picture and laminate are placed in a sandwich with a form covering and it produces a professional hanging type photo.& signs not effected by sun light but are thinner! My problem is that I have all this equipment, plus a M&R 6 head 4 station manual press, two exposure unit, heat press, hat press, 30 inch vinyl cutter, 24 inch plotter, 3 color large network printers and I am working out of a small two car garage, retired loving the extra income but do not want to open up a full time business - I love all my equipment but my wife is on me to cut back purchasing equipment, calling me a hoarder - maybe the breaking point is when I purchased and forced into the garage a 65 inch panel saw , which I purchased to cut substrates for signs ! might have over done it! If any one is interesting in reducing my stress and need some equipment at a reasonable cost contact me derrickalanprinting@gmail.com P. S From what I am being told now all I had to do was get UV protected Laminate with my first laminator and the problem would have been solved without purchasing the other two units!

this is the software program that comes with the mimkia cutters - any version will do - they upgrade for free once you have an orginal version of the software - tell me what you want!

Recently purchased a Graphtech FC3200 plotter - I sent Graphtech a message asking for information concerning this product and was told that it was a old unit and not being serviced by them any more, can anyone guide me to someone that might have instuction and spare parts for this unit. Minus the second cutting tool this unit is very simular to the units they are currently selling, design wise!

derrick1217 replied to 2CT Media's topic in Laminators

I purchased due to the fact they were available - Banner z27 inch double sided - Ledco sign master 38 inch pressure sensetive material - XT 500 photo quality lamanatior. When I see them I buy them if you are interested contact me!

Just went to an art show and saw a picture transferred on metal the artist was explain to me the process was done with a heat press and special ink? Is this the material used?

I AM IN A CITY WITH MANY "CHAIN" SIGN COMPANIES - EVEN OUR LOCAL OFFICE MAX - HAS SIGN AND PRINTING DEPARTMENTS. DUE TO THE FACT THAT I ALSO SILK SCREEN PRINTER AND MOUNT AND FRAME PICTURES - I AM GOING TO GO FOR IT AND OPEN A STORE FRONT - THANK YOU FOR THE INSPIRATION - NOW TO FIND THE PROPER LOCATION!

HELLO BUCKEYE! DERRICK ( CLEVELAND HEIGHTS )

NICE WORK ! MADE ME WANT TO GET CREATIVELY BUSY

I HAVE BEEN TOLD THERE IS SOME TYPE OF PRICING BOOK ON THE MARKET FOR SIGN MAKERS? DOES ANYONE HAVE ANY KNOWLEDGE OF THIS ?

ALSO REQUEST A COPY OF A PRICE LIST!

One last question on this topic - have learned to make the cut lines but - the cut lines sometimes cross into the picture - if I only want the outline is there a why to keep the cut lines on the outside of the image. Second question I saw a video of the cutter plotter cutting business card flyers - and they were moving the path line to make special cuts - 1. what size stock paper is used for business card / flyers and where can it be purchased 2. Where can I gain some quick education about working with paths and cleaning up graphics

derrick1217 replied to derrick1217's topic in Flexi

Thank you! I was receiving an information over flow - but reading your reply - got me to stop over thinking and just follow instructions - the software was asking for a registration mark (1) and I was attempting to show all three of them ! Once I slowed down and stopped over thinking the process - I got it right and complete the small 25 black cheer leader's shirts in less than an hour - I thank you and the "south east sweeties" Thank you helping me reach there dead line! Derrick

derrick1217 posted a topic in Flexi

I have followed all the instruction outlined in this and other places. Printed out the design with all the cut lines and registrition marks just fine. The cutter is reading everything but cutting outside the cut marks and in some places it is reversing the cut of images? I read the manual and found out the cutter has an setting to turn on and off the mark detector - which I have been playing with but still unable to make this cutter work properly. Any ideas?

Purchased this package on ebay - instead of being flexi 10 - they sent me a freeware program called Sign & Go - I inquired more into this and found out this is the program they have been marketing as Flexi 10? Dispute filed on both ebay & paypal - interested in seeing what happens next!

ok the printing I am using is a mimaki cg 60 ex - it has an optical eye. I This is my first time attempting to use the contour cut, I "you tubed" and followed the direction. I wrote my name expanded it - used contour cut and the outlined showed, I adjusted it and hit the green check mark , when back into the contour tab and inserted the marks "for my printer" to the illustration. Now when I printed the drawing it did not print the outline cut lines that appeared on the screen, but it still showed up on the production screen "the outline cut line" now when I attempted to cut the media, it showed mark detected but never cut! stating no cut line detected? Spoke to a friend who ownes a sign business and he informed me that flex8.6 does not make contour cuts that I would have to upgrade to version 10 or higher - that is the reason for my question.