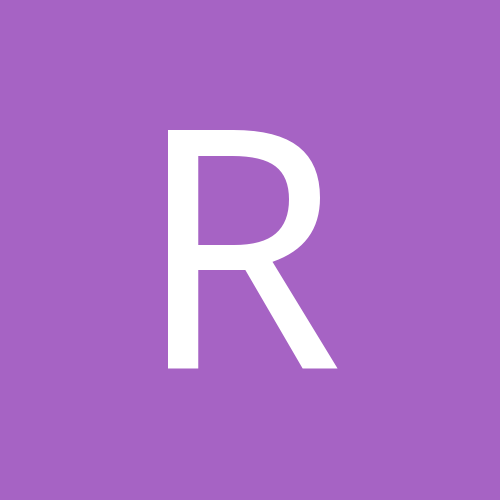 Content Count

56

Joined

Last visited
Community Reputation
2
Neutral
About racert25
Rank

Advanced Member


Birthday

January 1
Recent Profile Visitors
The recent visitors block is disabled and is not being shown to other users.
I was looking for some advice and average cost per label. I am looking at label printers and also vinyl printers and cutters to do the job. I have a company manufacturing and selling cleaners for boats, cars, rvs, and aircraft's. We have been printing in house with a regular printer but some of our labels fade away. So i need to get labels that are resistant to chemicals and water. I was thinking maybe a vinyl printer and cutter would be more beneficial then a label printer for various reasons but wanted to see what cost per square inch would be. I am looking to be printing 8"x8" labels. If anyone could help guide me to the cost i would appreciate it.

I guess i did not think it would be that hard to wrap. But i also have limited experience in it. I was looking at a full wrap for the wow factor of the design. This is for my new company selling high performance car, boat, rv and aerospace cleaners. I am making a deal when consumers buy multiple products from us they get a free bucket. I want something that would stand out.

I was hoping i could get some pricing on wrapping some buckets for promotional purposes. If you have seen the buckets at home depot or pep boys this is what i am looking to use. The size flat is 11"x 36" I will have a custom design if the price is right. These need to hold up to using automotive wash products so a laminated wrap material would be great. I would probably be looking at 25 to start. Thanks in advance!

Trying to stay around $200 for now. one day id like to get flexi. Will signblazer work with my graphtec ce6000? I used it before with my laser point. also want something to work on my mac so i do not have to run parallels.

I am trying to work on getting a word into an arc. I typed it all. everytime i go to outline view it changes back to a straight line. Im thinking of getting a software that is simple to use and i can cut straight from anyone have a good budget software? I am not good in AI

Do you cut these with scissors? Sorry if that is a dumb question?

Where is the best place to get them? I only have two i need for a job but dont mind stocking them. Also what is a basic size for a van door?

I tried Jiffy told me they do not ship to Delaware!

Where should i get 12 green shirts from to avoid paying a lot in shipping? i usually use shirt camp for large orders but for this one the extra shipping cuts into my margins.

I was wondering what media is best for a blast cabinet when etching glass. Currently we use glass beads for our machine shop parts. I was wondering if maybe sand is better for etching?

What is the best way to vectorize this file without spending hours editing nodes.

Thats a good idea! I was able to get it done just took some patience.

1/4" is the letters i think the script font i choose is to thin so its not working. Arial cut fine but when i go to pull say an e out the dot comes with it. I think i just need to be patient peeling and find a good script font for this mug

How small would you say your letters are? So im not trying to do something way to small.