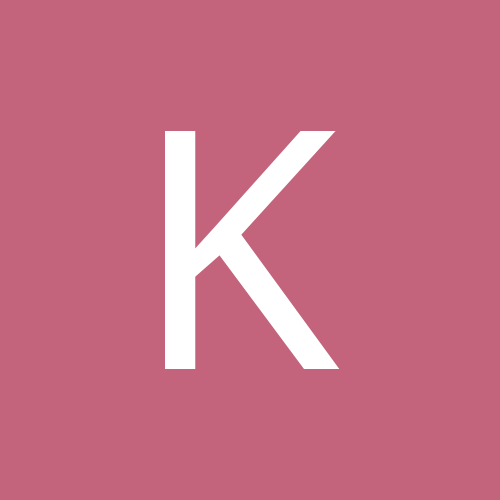 Content Count

316

Joined

Last visited
Community Reputation
2
Neutral
About kburk
Rank

Advanced Member


Birthday

08/12/1970
Thank you of course the design was not mine Snoopy's has been around for a while but I re drew it and cut it for my Wife's Mac she is quite happy and apparently the lady at work would like to know what else I can do

My wife loved it. thanks!

Looks good for your first it gets easier after! My first 2 shirts where great rags!!

Looks good! I have removed lettering and graphics for my sons soccer team they changed the name 3 years in a row!! I used a heat gun just to heat the vinyl a little, just to make is warm then we have a picking party! After its removed just a mild cleaner. Don't go to hot you don't want to wreck the banner material. I like the idea of a rental

She likes snoopy, so I thought this would be fun for her.

Nicely done and a sweet Idea I'm all in on that!! I would love to stencil powder coating!! thanks for the Ideas!!

Same Highlight your text right click "Create outlines" Under file I have sent to sign cut (AI CS4) I never save it down. maybe I should. After you create outlines you can have fun at that point modifying the font also. good luck

thanks for the reply's guys. Really when you have a long wide graphic and you place it on the glass it turns in to a happy face. So I was trying to figure out how to compensate for that. Make it look straight by shrinking the bottom and enlarging the top so in affect you have a V shape. Any bit of taper on a glass will do that for sure I'm just being picky . With a graphic I'm not sure how to do this. I will try the heat. Ill cut the Exaggerated graphic too and see what works the best. thank you for the help.

The glass is bigger on the top 3 1/4 smaller on the bottom 2 1/4 so a 1" taper. The program I'm using is AI CS4. Really its just like making a cone. I can easily do it with text but the graphic not so much. The glass is just a pint sleeve. thanks for the help

Hello, I'm making my son a glass using etching cream and a stencil. I just did a set of 24 with text and a logo for his whole team they worked out great. My issue is the graphic (Scooby Doo's gang) line drawing that I have I'm trying to add curvature to it to match the glass. When I use the arch tool it wont translate in to the outline so I can cut it. So you look in "Preview" and its arched you look "Outline" and its straight. So I'm guessing I'm using the wrong tool in Illy. Funny how the easy jobs you do for free make you work the hardest. I can't upload the file it is too large its 2mb, Sorry. I added the pdf. I know I still need to do work to the file before it will cut but I'm trying to get the curve first.Thank you for the help..... scooby doo's gang.pdf

I actually though it was funny. Jokes on me still there was no chicken once I downloaded the right file! Thanks for the web site. I found a chicken on a pay vector so I just snagged that. thanks

Well nothing like getting thrown under the bus thanks for that :| when I went on the to web page I hit one of the 20 links to a pay logo site my bad. I down loaded the free ones thanks Not sure if I will ask for help again though.....