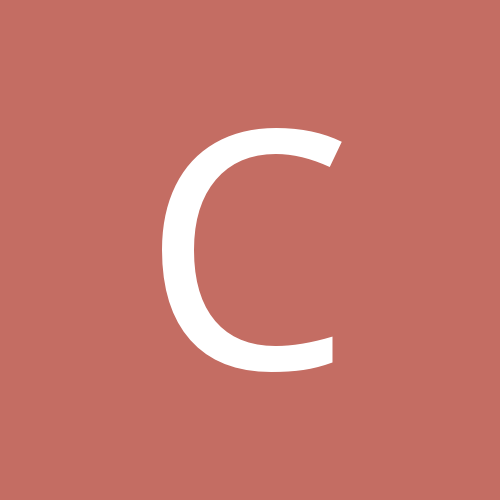 Content Count

9

Joined

Last visited

Never
Community Reputation
0
Neutral
About Chalyons3
Rank

Newbie


Birthday

01/01/1
Yea, I have, that was what I was trying before my keyspan come in. I got the "SignCut-x2" image that come with the software to cut once but I've been unable to get anything to work since then. The fact that I got it to work once makes me think that it is possible but I'm out of ideas. Will USCutter replace/refund my PCut?

NO!!! :'( Use a different mac/computer? I don't have that kind of money. Is there anything else I can do? I've scoured the forums for answers and everything thing I come across doesn't seem to help. I was so excited about taking my art to the next level with my brand spanking new toy. I'm going to just keep trying different things to see if anything clicks but when do I give up in defeat? Will USCutter refund me or send me another cutter? Will I just have the same problems with a new cutter? I'm not an angry person... just really disappointed and frustrated. Does anyone have any advice or is it time to throw in the towel?

I've gone through SO many issues with the my new PCUT. I'm sure every single one of them has been because of user error but I've encountered a new problem. I've bought a keyspan and finally got the cutter to respone when I pressed cut in SignCut-x2. However, the response is that the blade moves all the wall to the left and the LCD screen just says "waiting". A progress bar pops up in SignCut-x2 but it never fills/moves. Help! I don't know what to do about it. I've noticed that since using the keyspan (I downloaded the new driver) two new devices show up in SignCut-x2: /dev/cu.KeySerial1 and /dev/cu.USA19H2d1P1.1 Neither one of these seem to work and both have the same result. I've slowly worked through other problems but I have yet to cut anything. I don't know what to do! I wish there was someone to walk me through this so I can start the projects that have been put off.

I really hope I'm not being an idiot here but... I'm having trouble connecting a keyspan to my Creation PCUT CTN630. I went ahead and bought one since because I can't get my cutter to do anything but display "waiting" when I try to cut. The problem is there a two things sticking out on either side of the serial plug on both the cutter and the keyspan. The two things are for screws to secure the plug but since they are on both the cutter and keyspan, it is preventing the plug from connecting. Take a look at the pic in case I wasn't clear (please excuse the terrible quality). SignCut-x2 says that I need the keyspan to work and that I have a connection issue. I've tried everything else I can think of to get this working and now I'm at the point of desperately trying to get the keyspan up and going. thanks for any help!

Chalyons3 posted a topic in Signcut

I started using SignCut-x2 and I'm running into a bit of a problem. Once I've successfully imported my vector image into SignCut from Illustrator I try to cut it and the program crashes. It makes it to the pre-cut window (where you can specify the number of copies, etc.) but once I click "cut out" it thinks about it before disappearing and an error pops up saying "The application SignCut quit unexpectedly". I'm running OS X 10.4.11 on a MacBook Pro. I have 1.5 GB of memory and haven't ever had an issue with that. I can't seem to figure out what is going on and it has completely prevented me from getting anything cut.

Chalyons3 posted a topic in Signcut

I was having some issue importing images. Only part of the image was showing up in SignCut. After trying to import a different image, it started shutting down before it finished. I can even get SignCut to open with out shutting down unless up delete the illustrator.ai file in the "import" folder. What should I do?! Should I be using a different program than Illustrator CS3?

ransomsix, Thanks for the advice! I was worried that I wouldn't get any helpful responses from this forum. I'm going to try few things as soon as I get back to the machine. Thanks again!

I'm not sure if you own a mac but if so, go to the "Network" settings in "System Preferences". In the "Show" drop down box select "Network Port Configurations". Multiple ports show up with check boxes next to them (Airport, Bluetooth, Built-in Ethernet, etc.). One of those is usbserial-0000103D. Not sure if that clears anything up. I haven't read anything about doing this except in FTDI's Mac_OS_X_Installation_Guide for their drivers so I figured it was a good thing. Has no one out there used a PCUT with a MacBook Pro? I figured that it would be a fairly common setup.

I know a lot has already been said about this issue but I just wanted to make one last effort before I give in and spend $40 extra for a Keyspan cable. I have a MacBook Pro running OS X (10.4.11). I am hoping to use Adobe Illustrator CS3 and SignCut-X2 with my PCUT Creation CTN630 I bought from USCUTTER. I downloaded a trail of SignCut-X2 to test it out and so that I don't needlessly spend money on something that isn't going to work. I downloaded the VCP driver 2.2.9 (Mac OS X Intel) and it restarted my computer. I went to "System Prefereces" -> "Network" -> and turned on "usbserial-0000103D". I opened SignCut-X2 and clicked on the "Cutter" button I set the Manufacturer (Creation), Cutter (CTN630E), and device (/dev/cu.usbserial-0000103D). Whew! I turn on my PCUT and plug it into my USB drive and nothing happens. My computer doesn't recognize any new hardware and I can seem to get any response through SignCut no matter what I do. Do I have to buy the Keyspan or is there anything I can do to make this work? I've read that this setup should work but I've also read that you HAVE to use a Keyspan cable. Any advice would be GREATLY appreciated, especially from someone with the same setup.