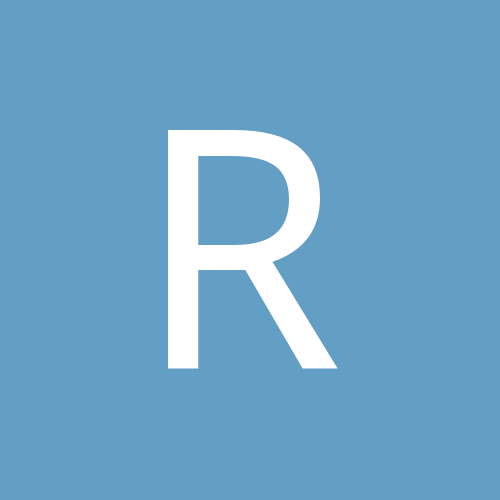 Content Count

29

Joined

Last visited
Everything posted by rocky53204
I'm trying to help out the Milwaukee Makerspace https://milwaukeemakerspace.org/ with an install of 'Sure Cuts A Lot' without much success. I am not at all sure they have installed a driver for the aged CE1000-60 and equally unsure if it will run with the Windows 10 install on their plotter computer. Attempts to locate a driver have been quite the fail... Graphtec site does not list it and the google hits look like malware traps. Does anyone have a working driver for this cutter? The makerspace is a 501-C running on donations (cutter must have been one!) so I would like to help them out. Regards, Rocky

At times I have had to add a box around some areas of text and use trial and error to find the proper choice of the several tools provided.

A mirror is 'silvered' as a reflective coating. A silver solution is chemically solidified on the glass. With modern methods of vapor deposition it is likely not an industrial method in current use. There is a 'second hand'/thrift store in my area which has half price days several days a week. I have found suitable framed mirrors ranging in price from 50 cents to a few dollars. Apparently not much demand for used mirrors even though they are in good shape. Likewise for framed glass... I remove the pictures. The item pictured came from there. A local Menards sells 12X12 inch mirror tiles which I may also try.

I am newbie experimenting with signage techniques on glass. I used 'rub n buff' sample pack on the first sign on which the text was sandblasted. I do not like the result of the metallic rub n buff. It is messy as well. The vinyl mask was mirror cut, weeded and then applied to the back of the 8X10 glass. I think it looks better without sandblasting with colored paper behind it. (As on the second sign pictured.) Experiments by definition are not always a success... What do you think?

In this case my procedure was to cut the oracal 651 pattern in reverse and apply it to the glass. I than sandblasted in a cabinet with a 50/50 mixture of black blast and aluminum oxide. I then applied the rub n buff to the blasted text, filigree, etc . Once the rub n buff dried I then removed the cut vinyl masking. The only color I liked was the antique gold which is a poor substitute for gilding. I hope to try the silvering and glue chipping in future.

1

It was a test piece... that's every color in the set just to see what they look like. Clearly the gold leaf is much better... I'll try that.

1

Nice graphic design! New Hampshire and Massachusetts... had to look at a map to satisfy my curiosity. I like how you had the road cross the border to illustrate the concept.

Hated RPG... used on a minicomputer that filled a room.. 16K of core memory, punched card input... A portion of the personal library... preferred pascal programming language.

1

My sister Nancy is nicknamed Fancy Nancy. She recently had a new deck built so I made her a sign. For practice I also made some sandblasted items... mirror, container, and 'lefty' coffee cup.

Sorry... felt like I was being laughed at. No offense taken where none is offered. I've used Microsoft for so long I make false assumptions. May be one of the few on the forum who remembers using Windows 1 and prior. My first 'portable' was a Kaypro using CPM operating system... monochrome only. I used no usb crossover... direct serial port connection. The Sabrent was used by the guy on YouTube. back of the computer (old Xeon based server) and connection to the cutter... note adapter. (DB9 to 25)

Never occurred to me... had no idea my attempt to help others would make me a target for ridicule.

Just picked up a used one on Craigslist last week... what a solid workhorse! Dusted off an old DOS manual to enable mode setting in autoexec.bat. (sets com1 attributes: MODE COM1: 9600,N,8,1,P) I do not use the usb... connected to a Windows 10 desktop via com1 serial port... works fine with Sure Cuts A Lot Pro 4 as GCC output. (hpgl) If you scroll to the comments line beneath this YouTube video you can find how that user enabled usb on this model. https://www.youtube.com/watch?v=ptyuLG7O2uY If you (or others) like I can post pictures... Good Luck!

Have you tried https://openclipart.org/ ? Do a site search and you will find many open source items related to food which can be modified for use. Respect your generous impulse.

SCALP requires that you de-activate prior to an uninstall (it's in the help menu) did you do that?

This might give you a headstart... converted to svg in inkscape. Requires further handling... loads ok in SCALP4 harvey girl.svg

Inkscape reads/writes svg files... adjust size to suit your preference... direct export as png...

For more on this subject ... https://web.law.duke.edu/cspd/comics/digital.php Legal information on copyright (and copyleft) in a comic book format. I found this information while doing research for my animations.

I had in mind... graffiti

Or... simply use a stencil font such as this... https://fontlibrary.org/en/font/crass-roots-ofl

Methinks he refers to stencil type letters... which retain the letter 'dropouts'. (Like the center of an 'O') Sure Cuts A Lot Pro 4 has a tool selection to produce bridged letters as the example picture. It will do vertical and horizontal bridges... I assume he creates the stencils as a vended product.

Helpful to me as well... I bought a used unit and needed to transfer ownership. (SCALP3) Wrote them what I bought and who I bought it from. They promptly sent a serial number I could use with my name. As just reward I have today updated to SCALP4 . (only $50 to upgrade!)

Well, you've really given me some incentive to follow this forum! I just spent $60 plus for 4 'CutReadyClipArt' packs on Amazon (in newbie fashion) and won't know till I get them if I'm the one clipped. Will examine the download with interest... thank you kindly! Most of the clipart I've seen are for newsletter, etc. for personal use only. I do amateur animations and any work I produce has very liberal license. (personal or commercial use.)

Regards, My name is John and I live in Milwaukee, Wisconsin, USA. Bought a used Titan 15" tabletop from a pro sign maker and as a retired hobbyist am learning it's use. Did my first cut today and to my surprise wasted only a foot of stock before I got a usable product. The machine came with Sure-Cuts-A-Lot Pro 3 which leads to a question... When I tried to cut what I saw on the screen in SCAL3 (2 columns of text) the first column cut OK. The second column seemed to overlap the first and wraparound to some extent. It did not look like that in SCAL3. So... is my problem using the USB connection or maybe trying to cut too wide. Does this cutter genuinely cut a full 15 inches wide? Should I allow wider margins when cutting columns of text? Is SCAL3 truly a 'WSIWYG' product?

The picture above your entry is of a piece of paper. (actually 2 pieces taped together to make 15") The matt illustration is in prior comments. I did notice when printing on the paper that the carriage was at it's end of travel which leads me to believe there are issues with alignment and/or inch conversion. I will try a test with metric to see if there is improvement. Follow up! Seems it went haywire because the newbie (me) did not allow width for perforations which drove the carriage beyond it's limits... problem solved! A grateful shoutout and thanks to all involved!