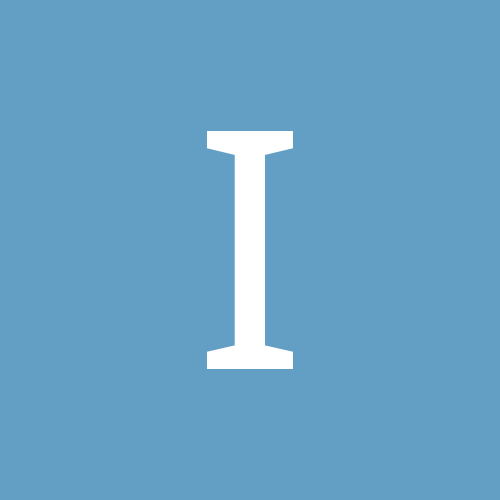 Content Count

43

Joined

Last visited

Days Won

1
Community Reputation
2
Neutral
Recent Profile Visitors
The recent visitors block is disabled and is not being shown to other users.
I'm extremely impressed with how well they track. When I'm cutting printed graphics and using the OPUS to adjust the skew it cuts almost perfect. According to the specs, the tracking is +- .0004 in when using the skew tracking. For cutting non-printed media I am using the media flanges. Mine has two tracks that slide on the front roller that the media flanges "lock" into. They don't move and it makes it track awesome. I can't tell by the picture if yours has them.

Seems like US Cutter is always out of stock of a lot of items forcing me to order from other places. 12" Squeegee? Nope, none available. RTape 4075 30"? No. Chemica 1702 20"? No. Take up reel for my 155 I ordered in August? Still back ordered. Seems like things they would want to have in stock at all times. I know they carry a lot of products but this is how you keep customers coming back. Have everything in stock.

Awesome. So I'll order a Summa blade and give it a try. Summa must just be into the re-branding game. I like the cutter so far. I actually like it better than my GS-24 with the exception that the GS-24 can cut any size material and cut all the way to the edge. The Summa is a little more limited. (or I just haven't figured it out yet) SignWarehouse has the Summa blades for $11. I'm assuming the are not factory blades though. If they work I will let everyone know just for reference.

The HP Blades are .0585 in diameter and .766 in length. I'm guessing that could be manufacturing tolerances or difference in calibers. Thank you dwp99.

By the way: The cutter looks exactly like the SummaCut D140 with a few minor exceptions. Why would HP bother to change the blade and blade holder?

The cutter is the one that comes with the Latex 115 package. All the specs just say "HP Latex 54 Basic Cutter." The actual model number is the 1NC42A. US cutter wants $191 for five blades and a cutting strip. I guess its not a fortune like I said before but it does seem a little high. Their "Specialty Blades" are $269 for the 5+1 package. It says they are to be used for rhinestone applications and "some transfer media." Not sure what would be different about them except the cut angle. It's all very vague. I can't seem to find any other information anywhere. I'll waste $10 on a Summa blade to compare or do what Wildgoose suggests and send one off to Ross to compare.

Yes sir. I did contact him and he said he was not sure if they were compatible or not... I just have no idea how different the HP machines are from the Summas.

Does anyone know if the HP Cutter's blades are proprietary? I know the unit is actually manufactured by Summa. I've looked at the D series blades for Summa and they look similar but it is hard to say if they are exactly the same. HP wants a small fortune for their blades so I am looking for an alternative. I've always used the clean cut blades so I was curious if the Summa blades will work. Any information is appreciated. Thank you.

Ironbar replied to Ironbar's topic in Printers

We have an HP design center near by. I'm going to run by there on Monday and take a look at the HP prints to see how dull they are. I've heard both ways. Some say they are dull but not enough of a difference to keep them from purchasing one. I've talked to HP reps and Roland reps. Both say 2-3 years laminated and 4-5 year non-laminated. That being said, you have real-world results. So, what media do you like to use for general purpose vehicle graphics? I've read other threads where you made the comment about parts - believe me, it is lingering in the back of my head. I like to keep equipment maintained and in operation for many years.

I'm diving into the realm of purchasing either a Latex or Eco-Solvent printer. In the past I have always done my vehicle graphics (not wraps) with Oracal 751. Any suggestions on what to use for standard vehicle graphics when using a latex or solvent printer? Cast vinyl is way more expensive and it seems like the ink is not going to last as long as the vinyl anyway even with lamination. I'm open to any suggestions on what to use. Does not have to be Oracal. Thank you.

I will check them out next time I get transfers done. Thanks.

I have used them many times in the past and I really like the results. I've had a few quality issues with them but they always corrected it quickly. I really like the results, so much so that it prompted my question. I've considered bringing the work in house so I can maximize my profits however, there does not seem to be a good solution to doing the work in house with the same results. Screen printing is out for me - we just do not have space available at this time Toner Transfers - I considered a new IColor machine but I do not like how the transfers have a very plastic feel, hard to get to a matte finish, have to be pressed twice for good results, and crack over a short period of time. Vinyl Printing - We do a lot of vinyl single color shirts and they are ok. In most cases people are very happy with them. I've considered a color print/cut machine (our next purchase anyway) but the results are not the same feel. Plus the weeding and very hard to get a distressed look on graphics without printing a background that eventually does not match the shirt. DTG is just to expensive for us right now and it requires to much maintenance. So, I think we are just going to stick with using F&M for now until we can setup a screen printing area. Anything I am missing? I'm differently open to any ideas. Thank you both for the information. I looked through the Plastisol videos today and it answered all of my questions about their process.

Does anyone know what process they actually use? Is it toner? Ink on transfer? I like their transfers. Is it possible to duplicate this process? I know very little about the different process. Please enlighten me. Thank you.

I read through that thread. Fellows does not list the PMS anymore. The first link does not have any grays. The second link is dead. I don't see what good it does to import the color pallet into corel. Corel does not give me the Pantone color. What am I missing? Thanks.

I produced a bunch of decals for a local company and now they want shirts. I am going to go with F&M because it is a few hundred shirts. Problem is when I create the design with F&M I have to use custom colors because I can't find any stock colors that are close. (Only problem I have found with F&M so far) I am going to go with the custom color option but I don't know the Pantone color for the vinyl I used. I would just buy a Pantone color chart and match but $200 for one is outrageous. I'm surprised that Oracal does not give at least a close Pantone number for their vinyl. Anyone know what the Pantone number would be for Oracal 751 067 Blue and Oracal 751 073 Dark Gray? If I buy a Pantone guide that is 10+ years old will it still be accurate? (Looking on Ebay) Any help is appreciated. Thanks.