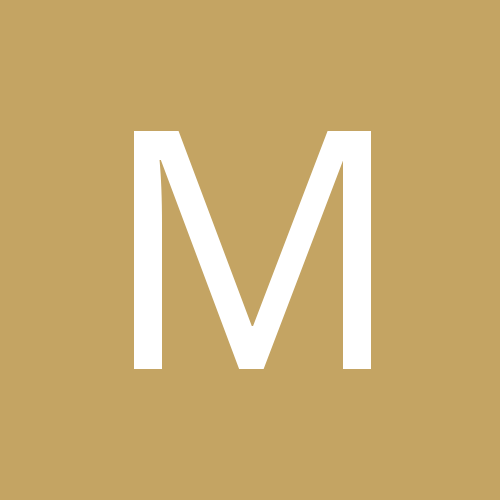 Content Count

12

Joined

Last visited
Community Reputation
0
Neutral
mazi posted a topic in Vinyl

We are currently using siser easy weed stretch heat transfer material and for the application the stretch is important. Looking for a printable material so we can expand the graphic image offerings without lowering the quality / life of the heat transfer. Thanks!

Ended up getting the Graphtec CE6000 and have been using it for a few months now. Definitely a nice machine. I've only seen one other person post about the stencil board so figured I would try this thread again. I just bought the red top holder and a cleancut blade and tried cutting the Greenstar 7010 SSB tonight. It does have a backer so that worked out but I am nervous to keep pushing my pressure higher even though it seems to need it. Right now the blade is out enough to cut the material by hand when i run the holder over it. The pressure is at 30 but seems to need a bit more. Is this a typical amount? The highest I have gone with the old blade on thinner material was 17 for carbon fiber or leather I think... Any input would be greatly appreciated! Is using this much or more pressure to cut this stuff normal? Do I keep bumping the pressure or increase blade depth and decrease pressure?

You are all so awesome and we greatly appreciate all of the help! -Weed lines are amazing. Especially with the rows of small logos and graphics -We increased the depth slightly more than we were previously comfortable with and the cuts have been awesome ever since

I really appreciate the help so far everyone! That green sheet was probably the worst yet. I must be keeping the blade too short because it seems like on big designs it scores and cuts clean but when we do the smaller cuts like this it varies color to color as to how well it cuts and scores the backing. -The blade is new as of the past few weeks with the machine and I would imagine our usage to be very minimal so far. I didn't run it without following the height adjustments in the forum from Mz Skeeter but there is a big possibility I am being too cautious. Not sure what the life expectancy of a blade is either though. I will definitely read up on the weed line settings and make adjustments to the blade first thing tomorrow!

Thanks everyone and sorry for the delay in responding!

Sorry, using the Graphtec Studio right now and we have done the test a few times to ensure the cut depth is set correctly. It is in simple mode so the offest adjustments are not something we have adjusted on the machine nor in the software. I keep thinking it's a pressure / blade issue..Both of these we cut a lot of. Have had the least problems with the green one but here is a good picture of what they do. The silver logo has been the worst. Are our expectations too high in thinking we can peel the vinyl off of these fairly easy without having to hold down letters and shapes? http://oi61.tinypic.com/2noyz4.jpg http://i59.tinypic.com/2zowxzd.jpg http://i59.tinypic.com/30arpq8.jpg

Don't want to start an argument over 651 thickness but we've been hand cutting a specific shape in 14 colors of 651 for 6 months and the gold and silver are definitely the thinnest of the colors. Our red and yellow are the oldest and came in the widest rolls and are some of the thickest. Maybe it's a difference of firmness not thickness but everything has a tolerance in manufacturing. The gold and silver have more opacity too. I never imagined or thought it necessary to change the pressure based on this but wanted to throw it out there that we have tried that. A bit overboard sorry! Mz Skeeter - We do weed the designs right away and I did a quick search for over cut..Does this have to do with the offset?

We purchased the Graphtec CE-6000 a few weeks ago. Read the manual front to back and read the forums the same! Set the blade depth twice now according to Mz Skeeters posts! Through our experience prior to having this cutter we knew the different colors of our Oracal 651 varied in thickness and have tried adjusting the pressure as we change the colors but something just isnt working correctly when we cut smaller images... The biggest issue right now is when we cut logo and text about 1/2" -1.0" tall. It simply won't weed and stays stuck to the sheet vinyl we are pulling up. We would appreciate any and all help! Katrina & Zac

Does anyone have experience using the Greenstar 7010 ssb with a Graphtec CE-6000? The Graphtec specs say max thickness of 10mil and the Greenstar just so happens to be 10 mil. Bad idea? Also, this might be an obvious answer I am overlooking but what if you want to cut a stencil in a 23" x 23" area and the max carrier sheets I've seen are say 13" x 19" ? Haven't ordered it yet but I am assuming I need a carrier sheet for the Greenstar 7010 ssb? Or not because it has a kraft backing adhered? Thanks!!!

OWJones thanks for the info! It actually looks like FoxFire is distributing the same brand Creative Films / Grif products and has significantly more designs and colors available.

Thanks for replying. I was thinking it could be due to them rolling it too tightly as well. It might be too metallic and crunchy for my purpose but I haven't found a reasonably priced material with similar patterns in anything softer or thicker yet.

mazi posted a topic in Vinyl

I work with Oracal 651 on a daily basis and like the designs that creative films offers so I ordered two 1 yd samples to try out. They arrived rolled up inside a tube and while unrolling one of them it released from the backing and left an air gap bubble across the middle of the sheet. I've never had this happen before and it basically ruined the piece. I contacted US Cutter to find out if there were any issues and they said no. They replaced the yd and I ordered another color as well. Same thing happened again... US Cutter hasn't been very responsive to the video of me unrolling it to show what happened and Creative Films won't return my calls since before the holidays. Not sure what I could be doing wrong? Any help would be greatly appreciated! Material Observations: US Cutter specs state the material is 1mil I believe. Creative Films had told me it was 2 or 3 mil I can't quite recall. I ordered the diamond plate mini and carbon fiber material and they are VERY thin and almost crunchy like. It seems to crack easily with handling as well. Any experiences with these? Thanks for your input and help in advance!