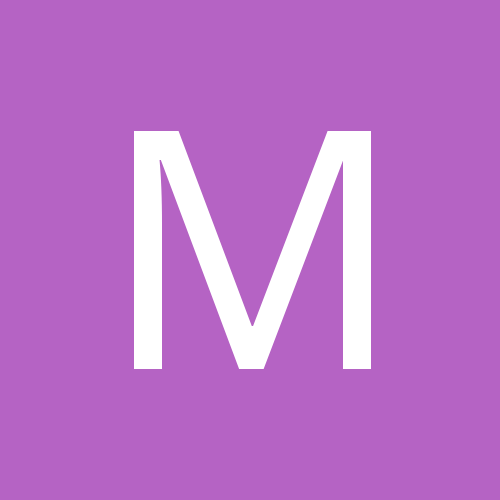 Content Count

41

Joined

Last visited
Community Reputation
6
Neutral
Thanks everybody for the feed back! Heat defiantly helped ! We ended up using a hair blow dryer which helps to avid the overeating , but still gets pretty hot, depending on how close you hold it to the vinyl... and avoids the costs of buying a new heat gun.

@cart I was thinking about that.. thx .. will try.. might have to try with a hair blow dryer first.. since I don't a a heat gun.

I have older ORACAL vinyl which sticks very tough on the side of my car ( Probably, because it has been exposed to the outer elements) When I try to peel if off? It comes off in little strips,not as a whole. Whats the a good strategy or chemical to make it come off in a whole?

I've been super satisfied with Siser Easyweed but they only have so few colors . I'm looking for an orange, some neon colors etc. were do I get a better verity of the easy weed ? Or Can somebody recommend a similar vinyl with more colors to choose from ?

Since everything is working out find with my cutter settings and vinyl selections .. I only have one big problem !!.... I mainly produce stickers ( for out doors ) which should stick on any kind of underground , that a sticker usually would stick on . The problem is .. the vinyl would probably stick, but the application tape is so strong it pulls the vinyl right back off the surface ( which might not be the smoothest or cleanest but a regular sticker would def. stick there) I'm using GreenStar Layflat Classic Transfer Tape - Medium Tack - Assorted Widths GreenStar Layflat Clear Transfer Tape - High Tack - Assorted Widths Can somebody recommend a less strong application tape or another tip.. !?

@KY oh ok .. at the SC Cutter the blade holder slides into a notch so it will always be in the same spot/hight I guess it just gets complicated to find out how far the blade really sticks out with the adjustment of the top screw..

@Jarrotto thanks for the advice for now I'm using the the 651 which works fine. If I experience more problems with any other vinyl, the first think I will do is adjust the blade. @KYSIGN I just use the Cutter for my own business uses so I don't have any customers .. I'm actually fascinated how good, detailed and fast the cutters is except for my little problems with the 651 Vinyl.. Wow you made a collar for the blade holder to always have the same depth of the blade.. I wonder how you did that .. you should put up a tutorial or picture .. I'm sure that interests a lot of people ! I still haven't found over cut in SCALP ... @djque I'm still using the blade ( red cap) which came with the SC cutter . I wonder how long they last ? With off set you mean the pressure setting ? I'm using 38g now.. @djque .. just checked out your web site.. will DM you now for all my details..

@KYSIGN I see somebody knows what he is talking about .. now that it cuts/weeds perfectly with the 651vinyl and my T-Shirt Vinyl .. I'm just gonna leave everything like it is. But I just tried out the 751 Vinyl just so see if it it improved a little bit with my graphic and wedding adjustments .. here the results.. ( even worse..) : http://i1267.photobucket.com/albums/jj558/mactube/test%20cut/248644A2-254D-4DDE-BA18-A855F39AEE9D.jpg http://i1267.photobucket.com/albums/jj558/mactube/test%20cut/7FBE81C2-F64B-4B58-9D66-5F6FF4C1B580.jpg The Vinyl is about 1 year old ... and also in some areas not very even .. not wrinkled but a little uneven from taking it in and out of the cutter.. this might have caused the vinyl to come up/off in the cutting process but that should not effect the vinyl when removing the excess . And it's not very hot today so it wont be the temperature .. letters come right off along with the excess vinyl .

Ok, so I'm sorry to say that it was really the Vinyl ( Oracal 751) matt , it kind of feels like its very thin and week like paper compared to oracle ( 651) which feels a lot thicker and more like Rubber ( real Vinyl) I also - changed the font slightly to a font without the very thin parts. - slowed the cutter down from 300 to 200 - increased the pressure from 25 to 38 So at this point no need to change the blade or blade length. I could practically rip off the access vinyl Check it out: http://i1267.photobucket.com/albums/jj558/mactube/test%20cut/465A4048-F8D6-4D30-B880-86455AA8426A.jpg http://i1267.photobucket.com/albums/jj558/mactube/test%20cut/78865889-DC84-441C-B4EA-ED79F3809A89.jpg ... just wanted to let everybody know what the problem was..

@suz 1234 def. not possible I can't even see where the Vinyl is not cut properly if that should be the case ( even though I don't think so because I can see the imprint of the cut on the backing paper ( will still try to add more pressure though) @djque what do you mean by 3m Vinyl ? Is that the thickness ? @kysign what do you mean by over cut ?

Hi, I'm posting my problem here because I don't now if this is a problem of a to fine Graphic ( which I don't think because I cut fine details before ) , or the actually cutter .. maybe not enough pressure .. ( the blade is fairly new / about 15 design cuts ( not sure how long these blades last, or a problem with the Vinyl since this its pretty hot today ( maybe the backing doesn't stick to good today at higher temperatures but then again there is not direct sun influence on the vinyl ). Please view the pictures : http://i1267.photobucket.com/albums/jj558/mactube/test%20cut/88467DD7-DA2F-4F7E-B149-5CBBBE416F6E.jpg http://i1267.photobucket.com/albums/jj558/mactube/test%20cut/6b553cde-7616-42f5-8950-fc88e1de882d.jpg I have a lot of problems weeding out my letters ... about 20% come of the backing material. I just don't have a lot of experience yet.. these are still some of my first cuts, I have cut out a similar Graphic with my SC Cutter with the settings 300 Speed 27g pressure ( using the red blade which came with the cutter) Looking forward to some helpful infos...

Hey, thanks for everybody's opinion and input.. Siser Easyweed arrived and works fine.. I cut it with 300 Speed and 25g pressure ( SC cutter) .. thats something a wanted to sake people anyway .. What kind of pressure and speed settings do you use ( I know it depends on the cutter and also how far the blade sticks out) , but that would be interesting to know!!??

I actually just tried it out with 300 F and 10 Sec. ( own muscle pressure.. since this heat press doesn't have a lock position in the press mode.. Worked pretty well with the Siser Easyweed Vinyl

Yeah well the people couldn't get it done so far or al least didn't write about it.. Hopefully this post will be a new encouragement for some people to get back on the subject, since most Vinyl Cutters are so big, that in most cases you have to put them in a place where you not necessarily have your computer and .. we all hate visible cables.. don't we..

I'm getting ready to start using the Economy 9" x 12" Swing-arm Heat Press - 110v from US Cutters . Unfortunately I don't have the directions to the heat press anymore, or they didn't even come with the machine... Does somebody have a Tutorial online or can somebody give quick advise how to use the press .. temperature / timer and pressure ?