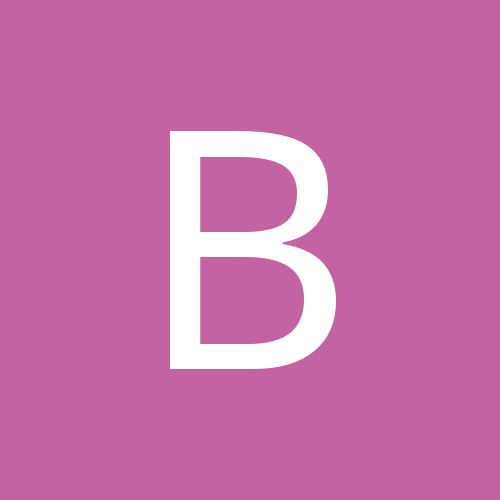 Content Count

52

Joined

Last visited

Never
Community Reputation
0
Neutral
About butnz
Rank

Advanced Member


Birthday

01/01/1
I've been making small decals and sending them to customers to have them install on their bicycles. A couple have asked what to seal them with. Since the decals are sent all over the country, I can't seal them myself. Clear nail polish? or what else can be used?

Very nice. I just finished up doing 6 coffee mugs and 6 pint glasses for a friends house in the mountain. I also etched a bottle of wine with their 'house' logo as a present for the next time we stay up there. For Christmas I had my 7yo daughter draw a winter scene with a sharpie on some paper. I scanned the drawing into the computer and then cut it into vinyl. Put the vinyl on the glass and sandblasted them. Really cute and personal. Grandma loved it.

Nice work, but the shine on the top of the first N in Nelson is different than the rest of the letters....

I get the coffee mugs at Walmart of all places for about $3 each. Sold a few with just names etched on them for $10

if you don't mind, how much do you charge for a wine bottle etch? I've etched a bottle for some friends and expect that it will generate a few leads.

Mostly friends and family. Giving away gifts seem to be my best advertising.My parents ordered 7 for their friends. One of those has said she might order 23 of coffee mugs for her grandkids. I gave a couple pint glasses to my parents neighbor, they ended up ordering 4 mugs for some of their friends. We gave a coffee mug to my daughters piano teacher, she in turn is ordering one for each of her 6 kids. I gave one to the president of my company, and it looks like he may order some for his office kitchen. I'm also a long time member of a few other non-carving/vinyl forums. I received permission from the moderators to sell forum logo decals and etch glasses. That has resulted in quite a few sales and custom orders. I'm still not to break even for the vinyl cutter and all the sandblasting equipemnt, but should be in the black soon.

I didn't double check and press down all the vinyl. I was excited to give it a try and was in a hurry. I also didn't clean the area at all before putting on the mask. I need to try it again. I think it was operator error rather than a problem with the vinyl. I haven't had any of the 651 shred or blow out. I've etched 1/8th of an inch deep on glass without it blowing out. It seems to hold up pretty well. If I was blasting expensive glasses I would look into sandblast resist, but for the $$ I'm willing to risk a casualty or two and keep using the 651.

I just received my first request for custom champagne glasses for a wedding. The customer wants to know the pricing for a pair and for 150. For a basic design of interlocking hearts, with names and a date in the hearts, what would you charge? I was figuring about $30-40 for the first pair and $10 each if they did the 150. This is based on using a basic $3-$4 flute. Thanks, Kurt

Looking around the garage last night I came up with an idea. Yea, it hurt. I could set up the cyclone unit with the shop vac and then vent the shop vac out the back of the garage. Between the cyclone capturing most of the stuff, a hepa filter in the shop vac and venting it out the wall of the garage, I would be pretty much dust free. I need to seal off a few leaks in the blasting cabinet, but then I think I might have a good setup. Airflow: Compressor > Pressure regulator > dryer > blasting cabinet > cyclone > shop vac w/ filter > outside venting.

I am using 220 grit white aluminum oxide with great results. It's quite fine, but does a great job and does it quickly.For vinyl I'm using Oracal 651. I've only had it not work perfectly a couple times when I was using it on an aluminum bottle, and a stainless steel travel mug. On the glass, it's been perfect. I've been cutting the design, putting it on glass and then using packaging tape to mask off everything outside the design to avoid overspray of the media.

Has anybody tried one of these for their dust control for their blasting cabinet? http://www.dustdeputy.com/ http://www.dustdeputy.com/ http://www.dustdeputy.com/newsite/images/Plas-DD-Ani-20ms.gif My shop vac is clogging, and it looks like a good alternative. I wouldn't mind a water filter, but it would freeze in my garage.

I'm doing coffee mugs and Beer glasses like you show for $10, but with a much smaller design.

I ended up sandblasting about 50 coffee mugs for Christmas presents. I have a feeling I will be doing quite a few more of these in the coming months. I need to find a better dust collection system for the cabinet. The aluminum oxide goes right throught the bag of the dust collector.

My 60 degree blade showed up this week. It's really nice. I'm now a believer.

I tried to install the driver on my 64 bit machine. I couldn't get it to work. Called Roland support a few weeks ago and never got a call back. I had an old computer over in the corner that was 32 bit and I got my cutter to work fine. I just use a thumb drive to move things back and forth. It's a pain, but I haven't had the time or energy to play with it the last few weeks.