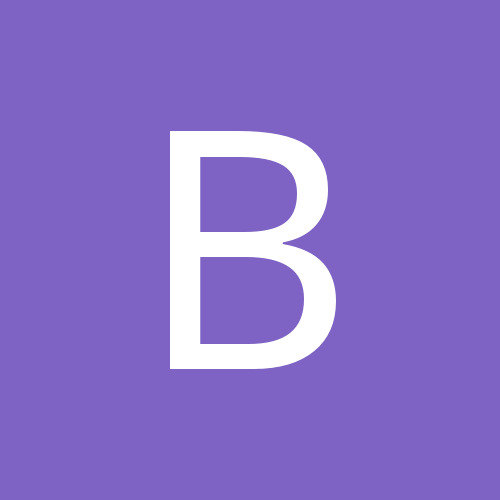 Content Count

19

Joined

Last visited
Community Reputation
1
Neutral
Busdriverfella replied to Busdriverfella's topic in SignBlazer

I have the software on the drive (from the backup), but just need the config location(s) to reload that. Seems to be well hidden I guess.

Computer took a dump. Microsoft won't restore from the backup (thanks for that, Microsoft), but I can still mount the backup and copy data off of it. If I know where the configurations file(s) or registry key(s) are for SB I can copy that over and (hopefully) be back to where I was without losing anything. As it is, it doesn't know it's a registered copy, or that I have a cutter, or ANYTHING. If anyone knows where the config info is stored, that would be a great help! Much better than starting from scratch anyway! Thank you for your time.

Greetings again! Does anyone know of some workarounds for disabled/missing features of Elements that are in Pro or Hotshot? For example, 'Glow', 'Chop', 'Fractalize', 'Color Blend' and certainly 'ImageCut color'. I was looking around in the 'SignBlazer5.5 HotShot Demo Version' that came with the Elements download, and there are some VERY COOL features in it, but since it's simply not practical to obtain the software (either Pro or HotShot) there has to be some folks out there that have figured out ways to get the same results in other ways. And since I'm just a guy at home with a cutter, there's no way I could spend that much cash on the software even if I could get it. I'm using Inkscape, Corel when I have to, and SBE. Thank you.

That, my friend, is my point.

Okay Jay .. happy to explain with a couple of lovely examples. I'm using Comic Sans for a reason now. ( Assuming Windows 7 or Vista, please modify slightly for XP ) go to 'Start', 'All Programs', 'Accessories', 'System Tools', 'Character Map'. At the top, click the down arrow and load the font 'Comic Sans MS'. The little boxes should be populated with happy characters. Scroll down the pages and you will discover that Comic Sans has 581 characters in it. Now .. go to SignBlazer, hit 'text' and change the font to Comic Sans MS. Now scroll across the bottom as you suggested, and you will see that the scroll bar ends at 'ÿ'. ( a lower case y with double dots above it ). ASCII only supports 256 characters, so any software that uses ASCII can only get the first 256 characters of any font it uses. 256=FFx, so character number FF in whatever font is the last one you'll be able to get at. That's 325 characters you can't use. If that didn't drive the point home, then go ahead and swap Comic Sans MS out for Calibri. Now you'll see that Calibri has 2,153 characters in it, and you can only use the first 256 in SignBlazer!! That's right, there's 1,897 characters in that font that YOU CAN'T USE within SignBlazer. HA! To prove that, go ahead and scroll down in character map to the second or third or 12th page. Now click on a character in the one of the little boxes and click the 'Select' button at the bottom. The character should appear in the 'Characters to copy :' box. Now click the 'Copy' button to the right of the 'Select button'. Now go back to SignBlazer, make sure you're ready to exter text, then either 'Edit .. Clipboard Paste' or <Ctrl>+V and see what you get. A big, fat question mark, is what! Note: all the letters in your video example ( thanks for that, by the way ) were well within the 256 characters. Ya Honor, the prosecution rests.

Okay, I see .. so if you are doing a sign for .. say .. a vietnamese shop .. and you need the character that is basically an 'A' with a dot below, AND a circumflex above, do you ... a. Cut an 'A', plus cut a dot and a circumflex to piece together yourself and hope you get it straight .. or b. Draw in the additions in your graphics software or c. Use a program that supports UTF-8 (i.e. UNICODE) and just type in that character in the first place ?? The advantage is assuming the sign is something like .. a menu board and has 50 characters that are just not in ASCII fonts. Rather than cut a bunch of extra 'symbols' to hopefully properly place above and below the characters, you can just type them in your software and VIOLA .. not only can you now cut exactly how it is supposed to look, but you have a wonderful mockup screen to show the client for approval. Since Inkscape does exactly what I need, that's how I generate my cut files and my mock ups. I was merely grumbling that SBE and SC doesn't do that intrinsically. And as I said before ( and I hope you've tested this ) copy/pasting into those programs results in a lot of question marks rather then the characters one would have hoped had come over. I apologize for my tone, it looked to me like you were not 'debating' but rather were basically telling me that since you didn't know/need it, you wouldn't know why I did. That's why I was somewhat surprised to see you reply with no helpful information, only questions about what I was doing and why I would need such a thing in the first place. Again, sorry. And just so you know, many of your 'standard' fonts support all the vietnamese characters .. like Calibri .. surprise! But if your SOFTWARE doesn't support UTF-8/Unicode, then you don't get to use those characters, even if they're in the font. So I would say that anyone in the business of printing words (signs, books, etc.) should have some way to utilize all the characters in all the fonts at their disposal. It just makes good sense. Maybe you'll never need them, but like a gun and a spare tire, it's better to have them and not need them, than to need them and not have them.

Actually no, it makes me want to sell signs to everyone in the area that doesn't 'do' english!

Actually, "most fonts" are unicode compatible. It's the software that uses them that isn't. And I believe that you're confusing the concept of 'programming' with 'using' when it comes to the programs being utilized. As far as 'free', I did receive a 1 year license for SignCut, which I would have to renew if I should want to continue to use it, which I see no reason why I should. As far as 'not used in this industry', then you are missing the boat, my friend. Vietnamese shops, Halal shops, Turkish shops .. guess what? They all need signs, too. I think when you say 'not used in this industry' I think you really mean 'not used by me'. I refer to your first post. But I do, indeed, play with unicode in several 'real world applications', most all of which are public gnu or open source. It seems so far that the software that is 'paid for' ( or used to be ) is the stuff that was short-sighted in this regard. I refer to Inkscape as an example of open source software that supports unicode. Why? Because it's open source, and the people that needed it to do that, made sure it did. SignCut, on the other hand, does not support unicode, probably because the people that support it also simply have no reason to believe that anyone would have the mind to make a sign in anything other than the kings english. It really is a limitation of the value of the software as a whole, and I can only hope that they are looking into this for future releases. I discussed this issue with SignCut support and was told they had no idea if or when they would consider that. I was confused, however, by the line 'very specific programs'. All the software I use could be considered 'very specific', so I'm not sure what the implication was there. Also, I am somewhat perplexed by your reference to 'C and its counterparts'. Huh? What exactly do you think 'C' has to do with UTF-8? Just FYI, any software that can accomidate UTF-8 can display all unicode characters. That was the point of the UTF-8 encoding system, to be backward compatible with ASCII and still be able to use UNICODE. What I think you meant to say was that all the old software still uses ASCII, and that is fine with you. I'm guessing, though. So .. if you have something to say that might be helpful, that would be awesome, but if you just want to continue to tell me that you don't use it, you don't see why I need it and that you don't really get why anyone would need it .. not so awesome. Bottom line .. I figured it out, thank you to all who tried to help .. it IS appreciated,

Hey! Got it! I was using Corel, thinking it would be the better choice. WRONG! If I go ahead and use Inkscape, export as EPS, then import into SBE, it looks great! Wow .. long road to get there, but worth it. Another case of public freeware doing a better job than costly software (in this case). Thanks for the input and the thought process. Next time I'm just going to try ALL the tools I have.

Hmm .. perhaps. I've never seen that effect before. I could use a bit of scrap vinyl to test that, but even in the cut screen it looks lousy, and all previous cuts have looked very much like I expected.

I obviously wouldn't be paying a subscription for software that doesn't do what I need. I just think it's kind of sad that I would have to pay between $395 and $995 for Flexi just because the provided software that was supposed to work .. doesn't. I need to find another way .. I simply don't have that kind of cash to fling around! If I use Corel X3, and convert the text to curves, it looks nice in Corel. When I copy/paste to SBE it looks terrible. Not smooth anymore, etc. I must be doing something wrong. I enter the text, it looks good. I 'Arrange .. Convert to Curves'. Ctrl+C, then Ctrl+V in SBE and it comes over, but it's ragged and nasty lookin'. Maybe I need to use larger letters in Corel and resize the result in SBE? Here is what I was originally referring to :

Well .. I guess I'll respond point by point. I don't consider them to be 'graphics' programs, I consider them to be 'sign cutting' programs, and as such should support unicode text , as signs often contain text. Yes, I am doing multilingual work. Ctrl+A, Ctrl+C and Ctrl-V isn't tough, but because the software doesn't support unicode, the copied characters show up as '?'. For example, 'chả' copies over as 'ch?'. ( The example looks correct on my computer, I hope it looks right on yours. ) Feel free to copy and paste that word. In SignBlazer, it will come over as 'ch?'. In SignCut, it will look correct in the text box, but when applied to the workspace will be 'ch?'. So being able to input the characters properly in the software without rendering them in another program for import would be the advantage. I hope now that you can see the advantages of using unicode and that you understand why this would be needed.

Greetings, It looks like neither SignBlazer Elements nor SignCut support UNICODE. At least InkScape does .. so now I get to do all my text work in InkScape and port it over to SignBlazer. Nice .. I can't believe that they license SignCut for a year, then want me to pay for it, and it doesn't support UNICODE. I didn't find anything much on a search of the forums for unicode, so am I the only one who has an issue here? Thanks.

I like the idea of just using yellow and red translucent vinyl with a black border around the letters to deal with the gap(s). Also, it should look pretty sweet. Since it's for a relative, there's no way I'm going to spend $300+ to farm this out. I'd never recover it. Also, I think I've figured out a great way to line stuff like this up, and if it works out, I'll post a vid. Last question ( If you believe that, I have a bridge for sale! ) .. the plastic does not look like it comes out of the sign easily. They want me to do this with it in place. How then shall I 'tuck' the sticky vinyl under the metal signs edges to prevent a big white light gap around the edges? Uhh .. without lines/creases. ( If that didn't make sense, I understand. It's tough to describe. )

The black outline sounds pretty good, also sounds like a bear to get lined up! I supposed I had best start trying to get used to using registration marks and lining things up on the tape so it's all one application. Thank you for the input, every bit helps! Now when you say 'back paint the face' do you mean .. a. paint the back part of the sign in the background color (in this case, yellow) and then put the red translucent letters on the front, or b. paint the back of the sign in yellow and also paint the back part of the sign in red lettering ? I like professional looking, but I couldn't paint a straight letter with a stencil!