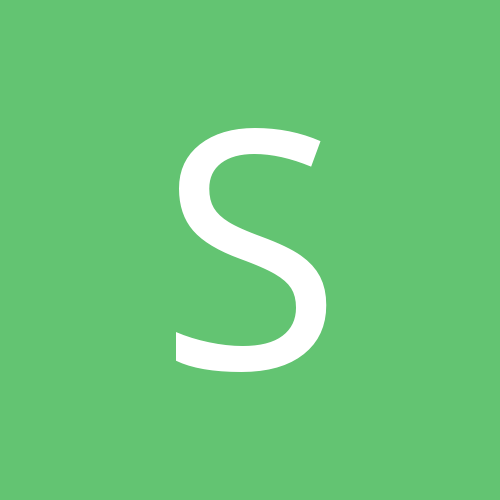 Content Count

14

Joined

Last visited

Days Won

1
Community Reputation
1
Neutral
About Scribe917k
Rank

Member


Birthday

03/09/1984
I blasted some awards for some guys at work that are retiring. I did 6 of these all the same just with differnt names. Took a while to weed out and I wasnt sure how well they would turn out but I think they looked good.

I know exactly how you feel. My post was just deleted. I guess im not buddys with the right people around here. I received a BAD product and my post was deleted trying to warn people about so they would not make the same mistake I did. He actually said he resized it using photoshop and as far as he knows there is no way to stretch a image in photoshop. If thats the case then find another job. I could find 20 ways to stretch a image in photoshop.

Within the next 2 months I am going to need to have a few shirts made. What I need is a lightweight material shirt with a simple black design on it. I already have the design made and can make it any format needed. The design will go on the back and also need a name on the left breast of each shirt. These shirts are going to be used in the heat of the summer out fishing so they need to be lightweight and breathable. If you have something that will work or can point me in the right direction that would be great. Thanks

I do have the eps of the vintage smoke logo but I cannot give it out. It is the logo for a small after market motorcycle shop.

I would say most any vinyl would do. I'm using the beginers pack from green star for my mugs and as you can see they turned out just fine.

Yeah we had a cabinet sitting around cause my father restores old 2 stroke motorcycles. Got it on craigslist a few years ago for dirt cheap, guy was cleaning out a storage unit. I don't know what u guys have over there but we get the mugs from the dollar store and they are actually really nice mugs.

I don't tape the top or bottom just the outside surface. Had it set on 60 psi for these mugs. Was set on 30 and I didn't like the result so I cranked it up.

Stuart....... all I have is a sand blasting cabinet, 24" uscutter laserpoint, signblazer elements and the regular green star beginers pack of vinyl. Nothing special but it works great. Just make sure to mask the entire mug. I used the 3" blue painters tape to cover everything I didn't want blasted.

Tried my first few etched mugs for practice and personal use. Turned out pretty good.

Just purchased my first cutter and im having a blast playing around and cutting vinyl. I have allot to learn but I dont think these are to bad for being my few few stickers. I made this decal to apply to a 13x13 tile for my parents. This tile was gifted to my girlfriends parents for the bar in their basement. I made this logo for my father and I. We are going to try and make money on the side powder coating and doing vinyl graphics. It is 20" long. Made it in both black and white. Hopefully get some advertising going when I get my site up. This was the first image I created for my girlfriends parents but the cutter cut everything 2 times but the second cut was offset just a hair so it was hell to weed and turned out pretty bad. Finished weeding it for practice. Some yamaha logos I made for my father. He is restoring a old 78 2 stroke yamaha and needed a few decals for it. This is a scanned image of a decal I made for a friend to sell in his online store. This was my first paying job.

Well USCutter sent me a email and they want to replace the cutter. I sent pictures with my claim and it shows pretty clear its busted. I am very pleased with my customer service experience so far and hope it continues this way. I am very anxious to get this cutter up and running and start turning out some vinyl.