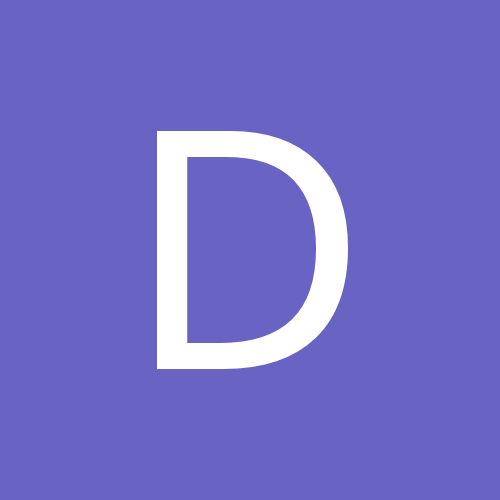 Content Count

18

Joined

Last visited
Community Reputation
2
Neutral
Originally I was doing a 24"x45" flag decal for a side window.

No the word I am cutting is only 16" long. I've just got to cut of 200 of them. I'm going to cut 25 at a time.

I'm not, I decided to run 25 at a time.

24 x 45, its the same file I was running to begin with. I did move the outside pinch rollers in about a inch or so like you suggested.

Well I have ran the same file twice now and no crazy tracking problems...fingers crossed the issue will not pop back up. I've got 100 doubled side signs that a guy needs one word changed on, so I'm going to try and run 50 at a time.

I pre-ran the material again this morning way past the job length and it went to the left again. I started with the other end of the vinyl and it tracked just fine, so I really don't know. I am going to make up some type of tracking guides to help me in the future.

Thanks for the info, I'll try the blade information in the morning. I am running it at a speed of 100, and 115 pressure. Can't figure out how to make it any slower.

Long story short- I sent a MH721 back because it continued to stop mid job, paid the upgrade difference and got a SC2 28 inch. I have ran 2 jobs on it so far, 1st one straight out of the box was a 24x42 inch American flag, ran it twice came out perfect. Fast forward a couple of days, I haven't touched the cutter since the last cut. Ran same file, midway through tracking got way off, ruined a large piece of vinyl. Can't afford to mess anymore up. Cut that piece off and just tracked another job, samething happened few inches in, it pulled way left. I haven't touched the pinch rollers or anything. Anyone got any suggestions?

I appreciate everyone replying and lending a hand.

I'm going the INscape way, never really messed with it. And I don't want to ask for a step by step lesson on the forum. Do you know of a video I can watch that shows me how to make a design like the one I attached? I am trying to "inlay" something into an American flag but have the flag go around it. I don't know what the term is called to search it. Thanks in advance...

I am new to US Cutter, I haven't tried this but I seen this video the other day. Might help ya! https://youtu.be/uQGk9hOOONI

Guess I am wasting my time trying to cut it to form? Looks like you just cut it full length and cut it to size. Which is what I am probably going to do, did you have a template to cut from?

Happen to have a link for Signblazer? Everything I have found the link is dead.

Thanks...I plan on making it a little larger, I just wanted the basic shape.

The will be going forward, I just have the whole thing rotated.