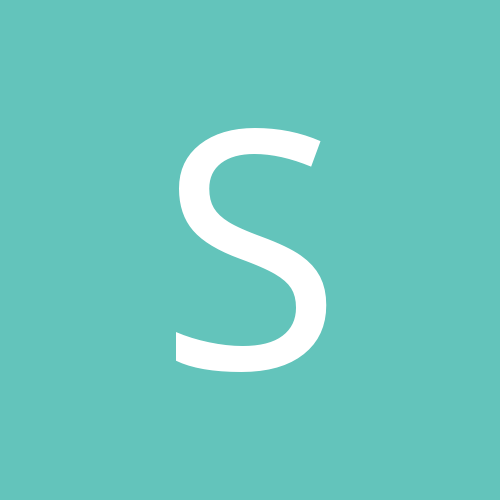 Content Count

22

Joined

Last visited

Days Won

1
Community Reputation
10
Good
Recent Profile Visitors
The recent visitors block is disabled and is not being shown to other users.
I have a customer that wants a number of decals which include an American flag. The stars would be small and tedious...any best practice tips out there for weeding out all the little stars, or should I just prepare myself for a couple days of wrist pain?

sjdvn2 replied to SorrelWorks's topic in Vinyl

This is a great tip! A lot of my decals are matte finish. Do you have any experience with this on matte vinyl? I'm curious if it will keep the finish or make it glossy

Any preferred sources for a large self healing matt that I can custom order or cut down to size? I have a 24x36 but need something larger

Hi all. I've been getting more orders for my side project of making large decals and need a little professional advice. When I was just doing a couple a week, I'd cut them out, take them to my kitchen table to weed them, apply xfer tape and prep them for shipping. It was cumbersome, but it worked. I have a work bench that I built to double as both a router table and can have a worktable placed on top for assembling wood projects. I'd like to make another top for it to use as a workspace for weeding, trimming, taping, etc. What would you recommend as a work surface? I'm thinking just sanded plywood with a full-coverage self-healing material, but wanted to know what you expert's use.

That's actually exactly what I want..I have another shirt that is like that but thinner...now to find some gray, thank you!

Hi all, I have a few pieces of clothing that have what appears to be a thick iron-on media, I've attached a sample. Is there a product like this that can be cut with a vinyl cutter and ironed on? I would assume it would need a couple passes I'm the cutter to cut through! Any guidance is appreciated!

Thanks. I just ordered a big squeegee. It seems they're aluminum now, last time I looked, they were pvc. Hopefully this speeds up my process!

Good morning, In my spare time I've been making fairly large decals, which are primarily cut from 30" rolls of 751 in matte black. Per a previous recommendation, I moved to high-tack transfer tape, as my standard tape wasn't holding very well to the matte finish. I switched to R-Tape 4076-RLA, which has been great. I've been buying 16" rolls and applying it to the 751 manually by hand by laying it onto my decals and using a squeegee to put it in place with good results. I run 2 rows of the 16" with some overlap so it can be applied in one piece. Today, I went to order some more tape, but it is no longer available in 16". Is there another brand that anyone can recommend? Next question, is it time to step up and do these with a single layer of transfer tape? I know it will look much better to the person ordering it, but im a little intimidated by running a 30" wide roll of transfer tape by hand. Can anyone offer advice, tips or tricks on the best way to layb30" tape in a home office environment? Thanks!

Definitely an option as well. Im not familiar with the reflective vinyls, as I haven't used them yet. Any recommendation as to what one to use in this application?

Hi all, I'm helping a family member tidy up some of her commercial properties by replacing some of the old signage. One item were doing is the Fire Department Connection signage (current sign attached). These are 18x12", and we want to make them reflective. I'm thinking the best bet is to get the reflective white aluminum blanks from Grimco and lay down red 751 vinyl. These properties are in Southwest Florida, so there is a lot of wear and tear from the sun. Is the 751 going to do the job I need for a long-lasting application? I've also read about laminating over the unpainted vinyl - is that worthwhile, or are we better off just going with bare colored vinyl and no laminate? Any input is appreciated!

Just wanted to say I just came across this and it's amazing! I have a little project I'm taking on and was worried I'd have to buy clear xfer tape...not needed with this! Thank you!!!!

Hello, I have a client looking for a large panel to be installed on their tailgate. They are looking for camo vinyl, but the only one I really see available is the Mossy Oak, which is quote expensive. Are their any good alternatives that come to mind? TIA!

Hello...wondering if there's a preferred source for obtaining vehicle measurements/patterns. For example, I have some customers wanting vinyl custom cut to sections of their body panels. I could go measure these out individually, but with numerous vehicle requests, it would be nice if there was a forum/database/site somewhere that offered this, even on a paid-basis. Thanks!

Just wanted to circle back on this. I picked up stonge high tack tape and WOW what a difference having better material! I did the flag for this truck in 1/4 of the time! Thanks again for the tips!

I did the front glass wet. I actually did the rear glass dry and hinged it down the center of the truck from front to back, which went surprisingly well and cleanly. I used rapid tac to clean/prep/wet the glass, stuff worked great!