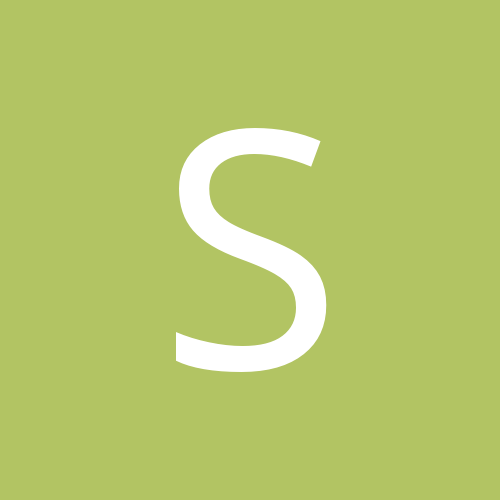 ScrantonStrangler
Members
Content Count

14

Joined

Last visited
Community Reputation
3
Neutral
Recent Profile Visitors
The recent visitors block is disabled and is not being shown to other users.
hmm ok good to know. I was going to try to make these to sell but I don't know if people would want to/be able to do that. I have people who rip their decals all the time because they didn't read the instructions I send with them lol I was kind of guessing that when peeling off the app tape it would create problems. Would a low tack tape help?

I did stack them all to create one large decal. Should I apply each layer right to the surface itself? Every layering video I watched showed people layering the vinyl onto a final piece of backing paper and ending up with finished decal ready to go. Is it not possible to stack them and say send them off to someone who purchased? Thanks

ScrantonStrangler posted a topic in Vinyl

Recently I decided I wanted to try something pretty complex. It's a design I made that consists of 3 colors. I managed to get them lined up pretty damn well but when I went to apply it I got a crap ton of bubbles. I'm assuming it's becasue I used a large solid piece for a background layer and put the other layers over it instead of cutting the background layer to fit the other layers in it. Is there any way around that? When I try to cut the layers exact, I don't think my cutter(or maybe my program) can be that precise and I end up about a mm off even tho I'm dead on the registration marks. Another question about registration marks, should they be a certain size/shape? Thanks in advance!

Outdoors would be great but I know a lot of artists who would like to just have some decent (not amazing) stickers made of some of their work. Thought it would be a cool thing to try. Thanks!

I am looking to do this mainly for fun and something different to do for designs that I can't layer. Any that I might sell I would explain to the customer they are meant for indoor use and don't have the same shelf life. I was just wondering if you could get a decent result without spending thousands on a printer.

ScrantonStrangler posted a topic in Vinyl

I am looking to get into printed stickers but don't have the money for the type of recommended printer. I am looking to try to use an inkjet with pigment based inks to get a decent result. I will probably clear coat them or use something transparent to cover them. I don't believe this helps them from fading in the sun though. If anyone has material suggestions that would be great. I have these stickers I've bought and can't figure out what they used to do it. I love the look and feel of them. They have a really soft matte finish. Not sure if this is achievable with an inkjet though. I included photos to try to show them a bit. Thanks for any help!

Shows what I know! haha thank you!!

I love your story and attitude about everything! do you mean ebay store? I am unaware of those and will do some reading. Thank you!

I can always count on a reply from you haha. I understand you need a lot of postings on ebay but they only let me post 10 items for the month and I did a few different sizes so I am stuck there for now. I'm not trying to live rich, quite the opposite actually ($2500/month) which seemed doable but Ive been losing hope. gotta keep grinding I guess. Thank you!

Hello everyone, I want to apologize up front for the negative/whiny post. I just have nobody to discuss this sort of stuff with so here is where I come for help and to vent. I have recently been having serious doubts about whether or not I can make a living with my vinyl cutter. My first few months went really well but now I have stalled hard. I think I am doing something wrong. I started out by doing orders for things such as tattoo shops (100 smaller decals) and though it makes ok money, it burns you out. I have advertised on facebook looking to do more rear window/business decals but haven't gotten any interest. I just today listed my first ebay listing (hope that does ok) and I would like to do some custom work or store fronts. I have been seeing a lot of people saying they do signs and am wondering if this is something I should expand to as well. I am not sure how to market myself the best with that sort of thing or even hat materials and stuff to use. I know I have to sell to more than local businesses but I can't see myself competing with the larger online shops. Not at least for business stuff. So maybe ebay is the best option? Just feeling really stuck and hating my day job doesn't help. Any suggestions or a nod in the right direction is greatly appreciated. Sorry again for the rant and thank you for all the info already on this forum!

I've seen your advice about using unique designs but I personally like making custom stuff. Just wasn't sure if ebay was the place for custom work or not. Thank you for the input!

I have been poking around on here trying to find info and it seems like you are the lady with all the answers! Thank you, i didn't even think about ebay as an option. Pricing I don't really worry about and just use my gut and what I am ok making on the particular job. As for "large" decals, I was thinking 12-22" being pretty big compared to what most people with small craft cutters can do. so do you mainly use pre-designed things or do you also do custom work? I would think custom work has the most money to be made but maybe I am wrong?

Do you sell via your own website that ranks well with google or do you use a site such as ebay or something? not trying to steal your ideas haha just curious. Seems like it would be hard to sell anything nationwide with so many huge manufacturers out there. My cutter isn't the best (LP2) but so far it has held it's own with 20" pieces. I guess large is a relative term. 20" might be small in the grand scheme of things but compared to people with the smaller cutters, it sets me apart somewhat. I would love to upgrade eventually but right now, I can't justify the cost until i can prove I can get more business. Thank you for the input!

I have recently started my own "shop" and have done a decent amount of jobs so far. Pricing aside (lord knows there's more than enough questions about that here) I have been struggling to drum up new business and wanted to see what everyone does to market themselves. I have been messaging and contacting shops in my area and introducing myself/asking that if they need anything done, to keep me in mind. i have gotten a few rear window things here and there but they usually only bring in like $50 I would love to spend time making larger decals for people that costs more than to sit hunched over making hundreds of small ones lol but I will take what I can get. I have been considering a facebook ad for my area but also think that limiting myself to my area might not be the best idea. Any and all suggestions are greatly appreciated. Thank you!