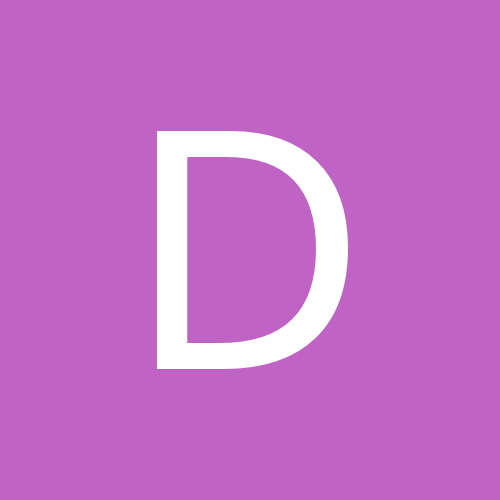 Content Count

15

Joined

Last visited
Community Reputation
1
Neutral
Recent Profile Visitors
The recent visitors block is disabled and is not being shown to other users.
@Dakotagrafx no its not. But that was the closest I could get it. I am returning this one and going to feel the SC2. I will keep all of you posted. What's a good program to use aside from VM? I want to thank all of you for your help. This a great forum with a plethora of info, and you guys have made it a good experience. I plan to keep searching for better programs to hopefully achieve a good result when the new cutter arrives.

@MZ SKEETER I completely agree! at the time of buying this we had $500 for a budget. We took two weeks comparing ones that we could afford, as well as the ones that came with package deals, like the MH cutter. We found many, and i mean many good reviews on this cutter. So much that one person went to say it was a "workhorse." Of course as with everything we found bad reviews but nothing bad enough. It was my impression that if a small silhouette could do it, anything could do it. I never would of imagined this much problems with it.

@MZ SKEETER I did zoom in to the parts where it showed gaps on paper, no gaps in the wireframe at all. Everything is connected in every spot. I did contact support and was with them for over 2 hours, never once did the person on the phone mention overcut, offset, or try to redo the image to make it smaller. @Dakotagrafx I am starting to believe that the arm being tilted is the reason for the gaps, maybe thats the reason why i have to adjust the offset? I have been battling with this thing all morning and I finally got a good cut on a file. I was able to get the file from 1.2 gb down to 122 KB. It finally completed a shape in one pass, instead of doing half, starting another one and only completing half of it and then coming back for the other half of the first one it started. Unfortunately at this moment I cannot afford something as nice as a graphtec. Eventually in the future I will. It just amazes me that something as small as a silhouette is able to do it flawlessly, but this is giving me so much trouble. There is a specific set of patterns that i cut, I honestly only have no more than 10 patterns that i cut on a constant basis. This one being one of them.

i tried a "0" with the pen and went up to "6.00" on the overcut, I went all the way up to 10.00... it still leaves a gap between start and finish. The only thing so far that has closed it is the offset.

Ok here's an optimistic update!!! Started fresh, re-did vectorizing, saved as .eps, used the pen BUT had to set offset at .25... It finally closed the cuts, it finally completed a loop, it finally looks like something good lol. Now I had to put a small piece of paper in the blade holding arm to keep it from leaning.

Tired a different one... Did a lot better but still leaves a gap on start and end if cut.

Good morning, I changed Geddes the format of the file and even used the one @Dakotagrafx sent and still doesn't do it right... The flower worked out great. Would a 34" SC2 vinyl cutter be a better choice?

Thank you all for your help!!! I'm really sorry for not responding sooner, we went out of town. Thankfully this cutter is under warranty. I am going to attempt to cut the other file in the morning. @MZ SKEETER it took me a minute to figure the file format question. Since I was previously using silhouette it was easier for me to vectorize the file in Inkscape and save it as desktop plotter cutter which ended in .dxf On a slightly related subject - should I keep this machine? Or should I invest in something different? My ability to use stencils for painting is what has given my business the ability to expand and grow (finally). I need something reliable.

sorry its taken so long. I havent been around my computer. I tried the test cut with the square and the star? it left skip marks at some of the edges. Here is the file. Thank you again!!!! Hexagon Shape Ready to Cut.dxf

Unfortunately trying to level out the holder did produce much better results.

So would my offset be in the negatives?

Is the bracket supposed to tilted that way? Seems as if it's leaning left. It's full seated in too.

@haumana the manual stated that the offset be set to zero when using the pen tip. I will definitely try using the program you recommended!! @arty-rc yes I did check the to ensure that the carriage is on the track and debris! I want to thank you all for your help!!!

@haumana the machine is less than two weeks old!!! Already giving me trouble lol @MZ SKEETER I did set my blade depth and used all 3 blades that came with the machine in an attempt to get it to work. I did start at 0.25 and increased it until it just looked like a jumbled mess. @haumana I have a silhouette, and it's using its own program. Crazy thing is, is that I can upload any file to silhouette and cut it fine. Not the case with VM. I stopped using the blades and I'm sticking to the pen until I can figure it out. Here's a picture of the calibration test and a better look at the skips. They're random. I did notice that the machine will not cut one shape all the way through at once. It'll cut let's say a line and a curve, then pick up and move elsewhere then comes back to finishing the part of the shape. On my silhouette it would fully cut a shape and move to the next piece. It's really weird. The Cutting strip is smooth no damage.

Good evening!! I'm very new to the bigger vinyl machine and the program that's being used. I have the MH 871MK2 and we're using vinyl master. Ive been reading through this forum and saw that a keyspan adapter is best for this application instead of USB, it will be arriving tomorrow. Ive been playing with the offset and overcut, I started with the blade but that got old very fast so I switched to the pen. The belt tension seems to be good, there's no debris on the track, I checked the blade housing and then switched over to the pen. It doesn't matter how I make it a vector, it doesn't matter how much I play with the offset I keep getting these incomplete cut that seem like "skips" on the cuts. I've slowed down the cutting speed and played with the pressure and still get them. Any help would be greatly appreciated!!! Thank you!!!